Our training program is eligible for training grant for COMPANY (Singaporean/PR) under e2i and Career Conversion Program (CCP). Application is subjected to approval.
- For e2i, the funding is 70% of training fee,
- For CCP, the funding is 70% of salary x 3months (<40 years old) 90% of salary x 3 months (>40 year old)
Career Conversion Program is applicable to Organisation who wish to uplift skills for their employee, you may check it out in the following link;
https://www.sbf.org.sg/what-we-do/jobs-and-skills/career-conversion-programme/ccp-s
Click here for the list of WSG pre-approved local training programme: CCP-S WSG List of approved Local Courses
(K-Tech's approved programme under item 60-63) 
Upcoming Course -
08,09,11-Dec 2022 open for booking
Hybrid Service & Repair Course
IMI(UK) Institute of Motor Industry Certificate Course
Conducted by K-Tech Auto Solution Pte Ltd
Level 1 - Electric/Hybrid Vehicle Awareness
Level 2 - Electric/Hybrid Vehicle Hazard Management for Emergency & Vehicle Recovery Personnel
Level 3 - Electric/Hybrid Routine Maintenance, Repair and Replacement
Venue : 60 Jalan Lam Huat #05-55 Carros Centre    Singapore 737869
Time : 9am to 6pm (daily)
Training Fee : $1,500 (Including Certificate issued by IMI(UK))
Start register today. Only 10 seats available!
You may register using the contact form on the right or text/call;
Thomas - 9113 3832
27 - 29  Aug 2021
Hybrid Service & Repair Course
IMI(UK) Institute of Motor Industry Certificate Course
Conducted by K-Tech Auto Solution Pte Ltd
Level 1 - Electric/Hybrid Vehicle Awareness
Level 2 - Electric/Hybrid Vehicle Hazard Management for Emergency & Vehicle Recovery Personnel
Level 3 - Electric/Hybrid Routine Maintenance, Repair and Replacement

20 - 22  Aug 2021
Hybrid Service & Repair Course
IMI(UK) Institute of Motor Industry Certificate Course
Conducted by K-Tech Auto Solution Pte Ltd
Level 1 - Electric/Hybrid Vehicle Awareness
Level 2 - Electric/Hybrid Vehicle Hazard Management for Emergency & Vehicle Recovery Personnel
Level 3 - Electric/Hybrid Routine Maintenance, Repair and Replacement

04 - 26 Aug 2021
Hybrid Service & Repair Course - 
HONG SEH MOTOR
IMI(UK) Institute of Motor Industry Certificate Course
Conducted by K-Tech Auto Solution Pte Ltd
Level 1 - Electric/Hybrid Vehicle Awareness
Level 2 - Electric/Hybrid Vehicle Hazard Management for Emergency & Vehicle Recovery Personnel
Level 3 - Electric/Hybrid Routine Maintenance, Repair and Replacement



16 Jul, 17 Aug 2021
Hybrid Service & Maintenance Course -
SHELL AUTOSERV
IMI(UK) Institute of Motor Industry Certificate Course
Conducted by K-Tech Auto Solution Pte Ltd
Level 1 - Electric/Hybrid Awareness
Level 2.2 - Electric/Hybrid Routine Maintenance Activities

13 - 14  Jul 2021
Hybrid /Electric Vehice Awareness and Hazard Management for -
CERTIS CISCO
IMI(UK) Institute of Motor Industry Certificate Course
Conducted by K-Tech Auto Solution Pte Ltd
Level 1 - Electric/Hybrid Vehicle Awareness
Level 2 - Electric/Hybrid Vehicle Hazard Management for Emergency & Vehicle Recovery Personnel

8-9, 15-16 May  2021
Hybrid Service & Maintenance Course -
SPC SPEEDYCARE
IMI(UK) Institute of Motor Industry Certificate Course
Conducted by K-Tech Auto Solution Pte Ltd
Level 2.2 - Electric/Hybrid Routine Maintenance Activities



10 - 11 Apr  2021
Hybrid /Electric Vehice Awareness and Hazard Management for -
ISLAND RECOVERY SERVICES
IMI(UK) Institute of Motor Industry Certificate Course
Conducted by K-Tech Auto Solution Pte Ltd (On-Site Training)
Level 1 - Electric/Hybrid Vehicle Awareness
Level 2 - Electric/Hybrid Vehicle Hazard Management for Emergency & Vehicle Recovery Personnel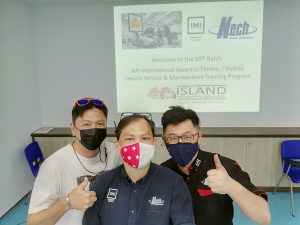 26 - 28 Mar 2021
Hybrid Service & Repair Course
IMI(UK) Institute of Motor Industry Certificate Course
Conducted by K-Tech Auto Solution Pte Ltd
Level 1 - Electric/Hybrid Vehicle Awareness
Level 2 - Electric/Hybrid Vehicle Hazard Management for Emergency & Vehicle Recovery Personnel
Level 3 - Electric/Hybrid Routine Maintenance, Repair and Replacement

05 - 07 Mar 2021 Hybrid Service & Repair Course
IMI(UK) Institute of Motor Industry Certificate Course
Conducted by K-Tech Auto Solution Pte Ltd
Level 1 - Electric/Hybrid Vehicle Awareness
Level 2 - Electric/Hybrid Vehicle Hazard Management for Emergency & Vehicle Recovery Personnel
Level 3 - Electric/Hybrid Routine Maintenance, Repair and Replacement


08 - 10 Jan 2021 Hybrid Service & Repair Course
06 - 08 Nov 2020 Hybrid/EV Service & Repair Course
04 - 06 Jan 2020 Hybrid/EV Service & Repair Course
01 - 03 Nov 2019 Hybrid/EV Service & Repair Course
28 - 30 Sep 2019 Hybrid Service & Repair Course
03 - 05 Aug 2019 Hybrid/EV Service & Repair Course (Malaysia - JB)
Congratulation to all Learners to be certified Competent and obtained Certificate by IMI(UK)