Automotive Diagnostic Tools
MKS909EV Intelligent EV Diagnostics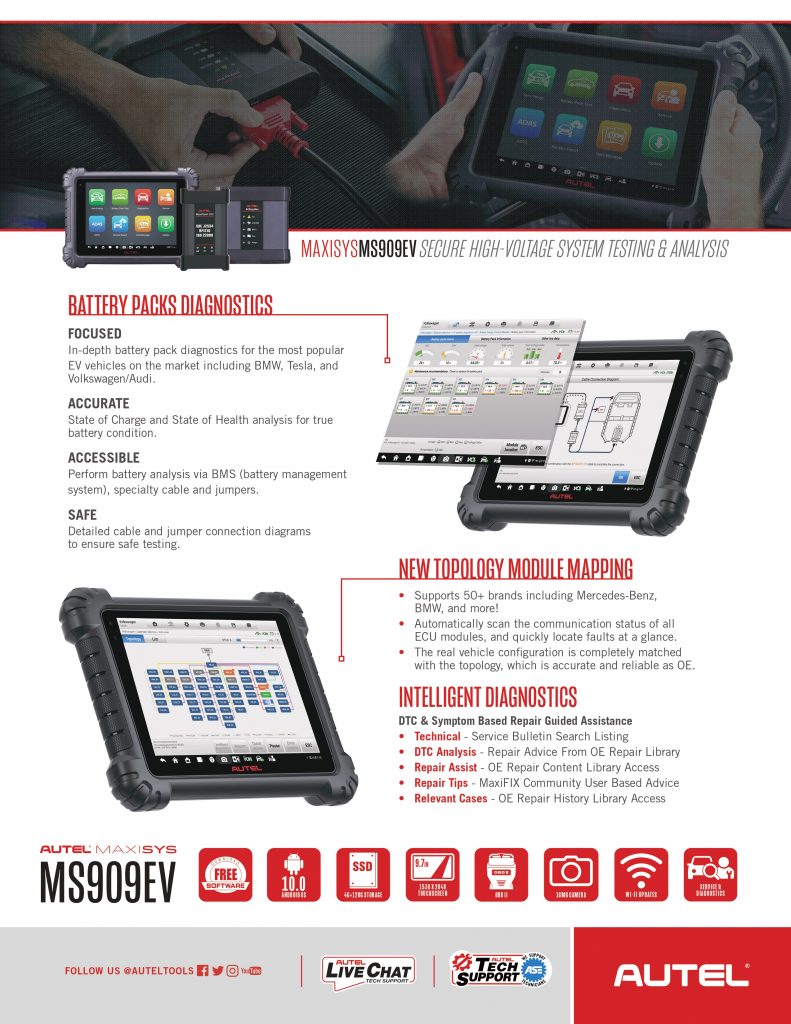 Introducing the MaxiSYS MS909EV: Unleash the Power of Intelligent EV Diagnostics!
The MaxiSYS MS909EV is the pinnacle of diagnostics excellence, specially crafted for electric, hybrid, gas, and diesel vehicles, making it the ultimate diagnostic solution for modern automotive technicians. With its dedicated EVDiag Box and MaxiFlash VCI/J2534 interface, this cutting-edge tool brings you unparalleled capabilities for comprehensive and advanced diagnostics.


All-in-One Diagnostics: Experience the future of automotive diagnostics with the MaxiSYS MS909EV. This state-of-the-art tool covers a wide range of vehicles, including U.S., European, and Asian electric, gas, diesel, and hybrid models, making it your go-to companion for any diagnostic challenge.
EV High-Voltage System Analysis: Rapidly analyze EV high-voltage systems with ease. Read and erase codes, view live data, and gain valuable insights into your electric and hybrid vehicles like never before.
Detailed System Diagrams & Instructions: Navigate complex high-voltage systems effortlessly with comprehensive diagrams, component illustrations, and step-by-step disassembly instructions. The MaxiSYS MS909EV empowers you with the knowledge needed to tackle intricate system analyses with confidence.
Unveil True Battery Condition: Accurately assess the State of Charge (SOC) and State of Health (SOH) of batteries for a clear understanding of their condition. Whether via OBD or specialty cables, the 909EV screen showcases detailed graphics and provides secure testing guidance.
Real-Time Updates & Support: Stay ahead with automatic system and software updates delivered through real-time push message notifications via the internet. Additionally, our interactive Data Logging sessions enable direct contact with Autel Support, ensuring swift troubleshooting of diagnostic bugs and errors.
Organized Shop Operations: The MaxiSYS MS909EV is your one-stop multitasking solution, designed to streamline shop operations by efficiently managing data files, customer information, and vehicle records – all in one place.
Cloud-Based Data Manager: Experience the convenience of cloud-based data storage with our Data Manager. Safeguard customer and vehicle records, scanner data, and technician notes securely, ensuring your diagnostics process is seamless and organized.
Elevate Your Diagnostics Game: Step into the future of diagnostics with the MaxiSYS MS909EV. Unlock the full potential of electric and hybrid vehicle diagnostics with intelligence, precision, and efficiency. Embrace the revolution in automotive diagnostics today!
Ultra EV Intelligent EV Diagnostics
Introducing MaxiSYS Ultra: Your Ultimate Automotive Diagnostics Partner! 🚀


Unleash the Power of Intelligence: MaxiSYS Ultra is Autel's most ambitious diagnostics tablet, meticulously crafted to elevate technician intelligence and redefine diagnostics excellence. Equipped with a massive 12.9-inch touchscreen tablet, powered by Android 7.0 OS, and fueled by an Octa-core processor (2.3GHz Quad + 1.7GHz Quad), this groundbreaking tool is engineered to deliver exceptional performance for the modern-day technician.

Limitless Possibilities with Enhanced Features: 🔍 Split-Screen Multi-Application Navigation: Maximize efficiency with the all-new split-screen feature, allowing simultaneous access to multiple applications for seamless diagnostic guidance and component testing during repairs.

📱 Dynamic Topology Module Mapping: Experience enhanced mapping capabilities to precisely visualize vehicle systems and pinpoint potential issues with unparalleled accuracy.

🔧 Intelligent Diagnostics: Empower your diagnostic prowess with Intelligent Diagnostics options, providing step-by-step repair guidance that streamlines your troubleshooting process.

📚 Vast Built-in Memory: With a substantial 256GB built-in memory, the MaxiSYS Ultra ensures that you have access to an extensive database of vehicle-specific diagnostic solutions, enabling you to make informed decisions with confidence.

🌟 MaxiFlash VCMI – Your Swiss Army Knife for Diagnostics: The new MaxiFlash VCMI serves as a versatile 4-channel oscilloscope, waveform generator, multimeter, and CAN BUS tester – all in one compact tool, equipping you with the ultimate diagnostic edge.

💡 Unmatched Versatility: MaxiSYS Ultra supports OBD2/CAN bi-directional communication, making it compatible with a wide range of vehicles, and empowering you to tackle diverse diagnostic challenges effortlessly.

⚡ Always Powered Up: Thanks to the convenient docking station, your MaxiSYS Ultra is always charged and ready to go, ensuring that you never face any downtime during crucial scans.

🛠️ Built to Last: Crafted with precision and durability, the MaxiSYS Ultra can withstand the rigorous demands of the automotive industry, making it your reliable long-term diagnostics companion.

🔥 Elevate Your Diagnostics Game: Experience a whole new level of diagnostic efficiency and accuracy with MaxiSYS Ultra – the definitive choice for automotive professionals worldwide! 🏆

Unlock the Future of Diagnostics: Get your hands on the MaxiSYS Ultra today and revolutionize your diagnostic experience!
EV Diagnostics Upgrade Kit
Introducing the EV Diagnostics Upgrade Kit: Revolutionizing Battery Pack Diagnostics for Electric Vehicles! 🔋🚗

Unleash the Power of EV Diagnostics: The EV Diagnostics Upgrade Kit is a game-changer, designed to empower automotive technicians and enthusiasts with cutting-edge battery pack analysis capabilities for electric vehicles. With the comprehensive package of EVDiag Box and specialized adapters, you can now dive deep into the heart of EVs and gain invaluable insights into their battery performance.

🌟 Seamless Compatibility: Our EV Diagnostics Upgrade Kit seamlessly integrates with the MaxiSys Ultra, MaxiSys Ultra ADAS, MaxiSys MS919, and MaxiSys MS909 tablets, allowing you to harness the full potential of your diagnostic tools. EVDiag Box connects effortlessly to MaxiFlash VCI or VCMI, ensuring a smooth and reliable diagnostic experience.

🔌 Tailored Adapters: Designed for precision, the kit includes a range of adapters specifically crafted for renowned electric vehicle brands such as BMW, Tesla, and VW. These adapters guarantee a perfect fit and secure connection, enabling you to unlock in-depth diagnostics for each vehicle model.

🧳 Portable Convenience: To support your on-the-go diagnostics endeavors, the kit comes with a premium carrying case, ensuring that all components are organized and protected while you're on the move.

🔋 Unravel the True Battery Condition: With the EV Diagnostics Upgrade Kit, you gain access to essential State of Charge (SOC) and State of Health (SOH) analysis, providing you with accurate and real-time data on the battery's health and condition. Stay informed and make informed decisions about the battery's performance and overall vehicle efficiency.

🛠️ Elevate Your EV Diagnostics Game: Take your electric vehicle diagnostics to new heights with the EV Diagnostics Upgrade Kit. Whether you're a seasoned automotive professional or an EV enthusiast, this kit will revolutionize your diagnostics experience and equip you with the insights needed to master EV repairs like never before.

🔥 Embrace the Electric Future: Prepare yourself for the electric future with confidence and expertise. Get your hands on the EV Diagnostics Upgrade Kit today and take the first step towards becoming a leader in EV diagnostics!